SIDE EFFECTS &
COMPLICATIONS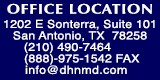 Known ETS Side Effects, Complications
Side Effects
Patients should be aware that compensatory sweating can and does occur.

Compensatory sweating is experienced as excessive sweating on the back, thighs, stomach, axillae, groin and/or lower legs and may range from mild to severe. Reported incidence of developing compensatory sweating in world literature range between 50% to 90% of all patients undergoing the ETS procedure. Of this group, it has been reported that about 5% - 10% of these patients experience severe compensatory sweating. Severe compensatory sweating, or severe compensatory hyperhidrosis, can be very troublesome, especially when it soaks through clothing. This can be more problematic in hot humid climates and can become more of a problem than the original problem treated.

The tolerance of compensatory sweating is patient dependent. Some patients tolerate severe sweating while others do not tolerate even mild compensatory sweating. There are medications that may help lessen the severity of compensatory sweating post operatively.

Overweight patients may experience more compensatory sweating and those who live in hot, humid climates may find it less tolerable. Compensatory sweating is the most common side effect reported by patients regardless of which surgeon is performing Micro ETS.

Gustatory Sweating, which occurs while eating or smelling certain foods, can develop post operatively in about 10 to 20% of the patients.

Phantom sweating occurs in some patients after ETS surgery (feeling the sensations of sweating but not actually sweating) and typically resolves in 1 to 3 weeks after surgery.
Complications
Serious complications from the surgery are unusual.

Sensitive pleurae (chest lining sensitivity) can limit exercise, Horners Syndrome, which is rarely reported, pneumothorax (collapsed lung), bleeding, postop neuralgia and parasthesias, possible hair loss, and bradycardia (slow heart rate) possibly requiring a pacemaker. Other possible complications include, but are not limited to, subcutaneous emphysema, possible conversion to open thoracotomy and heat intolerance.

Possible persistence of symptoms can occur if accessory nerve branches are present, duplicate nerve or aberrant nerve tracts are present. Recurrence of symptoms can occur if nerve regeneration occurs (unusual), which could necessitate a need for a redo operation.

Death has been reported in some ETS patients in the world literature.