Endoscopic Ganglionectomy, Compensatory Sweating Treatment.
Endoscopic Thoracic Ganglionectomy
Ganglionectomy, removal of the sympathetic ganglia (nerve junctions) of the mid thoracic region, treats cs severe sweating of the trunk (chest, back, abdomen). This procedure is only for patients with severe compensatory sweating of the trunk, not controlled with medications (change of clothing several times a day).

Introduction
Severe compensatory sweating occurs in 3 to 10%, 30% to 90% in other studies(depending on technique) of patients that undergo ETS (endoscopic thoracic sympathectomy). Severe sweating of the trunk is a debilitating condition, requiring change of clothing several times throughout the day. Oral medications such as Glycopyrrolate and Oxybutynin are helpful to reduce the severity of sweating for many patients. However, for some, their severe trunk sweating can't be controlled and it severely impairs their lives.
Treatment remains controversal, as interposition nerve grafts in hopes of reversal, extended sympathectomy, Botulinum toxin, and medications (oral and topical), are not very effective in controlling severe sweating of the trunk.
Surgeons may be reluctant to offer further treatment for severe compensatory sweating, as they have not seen improvement after all that they have tried.
Severe compensatory sweating of the back, mid to lower chest, and abdomen soaks the shirt of the individual with minimal exertion, heat, or anxiousness. Eating foods which are not even spicy can even trigger severe compensatory sweating in some individuals.
Benefits of Endoscopic Thoracic Ganglionectomy
Control severe sweating of the trunk immediately (reduction in sweating seen immediately).
Patients leave the operating room with back, chest, abdoment.
One side performed at a time, two incisions, single lung ventilation.
Immediate improvement in trunk sweating, high success rate.
Same day surgery (discharged the same day means lower cost).
Requires lung adhesions to be "taken down" to be able to access the sympathetic ganglia (prior ETS usually causes lung adhesion formation).
Ganglia of interest are removed, thereby stopping nerve signals from triggering severe sweating of the trunk.
Technique
Endoscopic Thoracic Ganglionectomy is performed in an ambulatory surgical center. One side is done per sitting. General anesthesia,with single lung ventilation, is required. The patient is placed into the lateral position. Single lung ventilation is then begun. Two small 5 mm ports are placed, just below the axilla, on the lateral side. Lung attachments (adhesions) to the chest wall are divided to gain full access to the sympathetic chain and ganglia. The mid thoracic ganglia, T3-T7 or T8 are then removed. thereby stopping sympathetic nerve signals from triggering compensatory sweating on the trunk, from the nipple line down to the waist. Intercostal nerve blocks are administered the improve postoperative comfort. Evacuation of the carbon dioxide is accomplished by placing a small 15F silastic tube through the instrument port and the lung reinflated with the drain tube on suction, which evacuates all carbon dioxide. The two small incisions are closed using 5-0 Monocryl suture and DermaBond for the skin. The patient is then extubated and taken to the recovery room. Chest x-ray is done in the recovery room, diet is advanced and the patient is discharged 1 to 2 hours later. Followup exam in my office is performed the following morning then the patient can return home by plane or car. Normal activities can resume a few days later and full physical activities in one to two weeks. The other side can be done several months later, after efficacy and any side effects can be determined.
Watch Video - Ganglionectomy treatment for Compensatory Sweating

More questions? Ask Us Now
Results
After the sympathetic ganglia have been removed in the operating room, the skin becomes dry on the corresponding areas of the chest, abdomen and back. This change occurs in the operating room. Thermal scan done the next day shows areas of the skin having improved, becoming dry and warmer.

Patients report that following ganglionectomy, sweating of the chest, abdomen, and back diminishes significantly with triggers such as heat, causing much less sweating. No new areas of compensatory sweating have been seen following ganglionectomy. Patients report significant decrease in sweating during exertion and often describe it as "normal" sweating. Due to anatomical differences of nerve pathways in some patients, intact nerve fibers may remain following ganglionectomy, which could lead to persistent symptoms.

Immediate post operative skin dryness of the chest, abdomen, and back is seen in the recovery room.
Chest hyperhidrosis
Abdomen sweating
Back sweating
Hands become warm if T2 sympathectomy is done.
Dr. Nielson's Ganglionecotmy technique affords immediate improvement in excess sweating of the trunk (chest, abdomen, back). Combat cs compensatory sweating of trunk (chest, back, abdomen). Ganglionectomy, removal of each sympathetic ganglion, is more effective than sympathectomy (disconnecting the ganglia and leaving them still connected to the spinal cord, because of intra-ganglionic connections and connects directly to the skin from each gangla).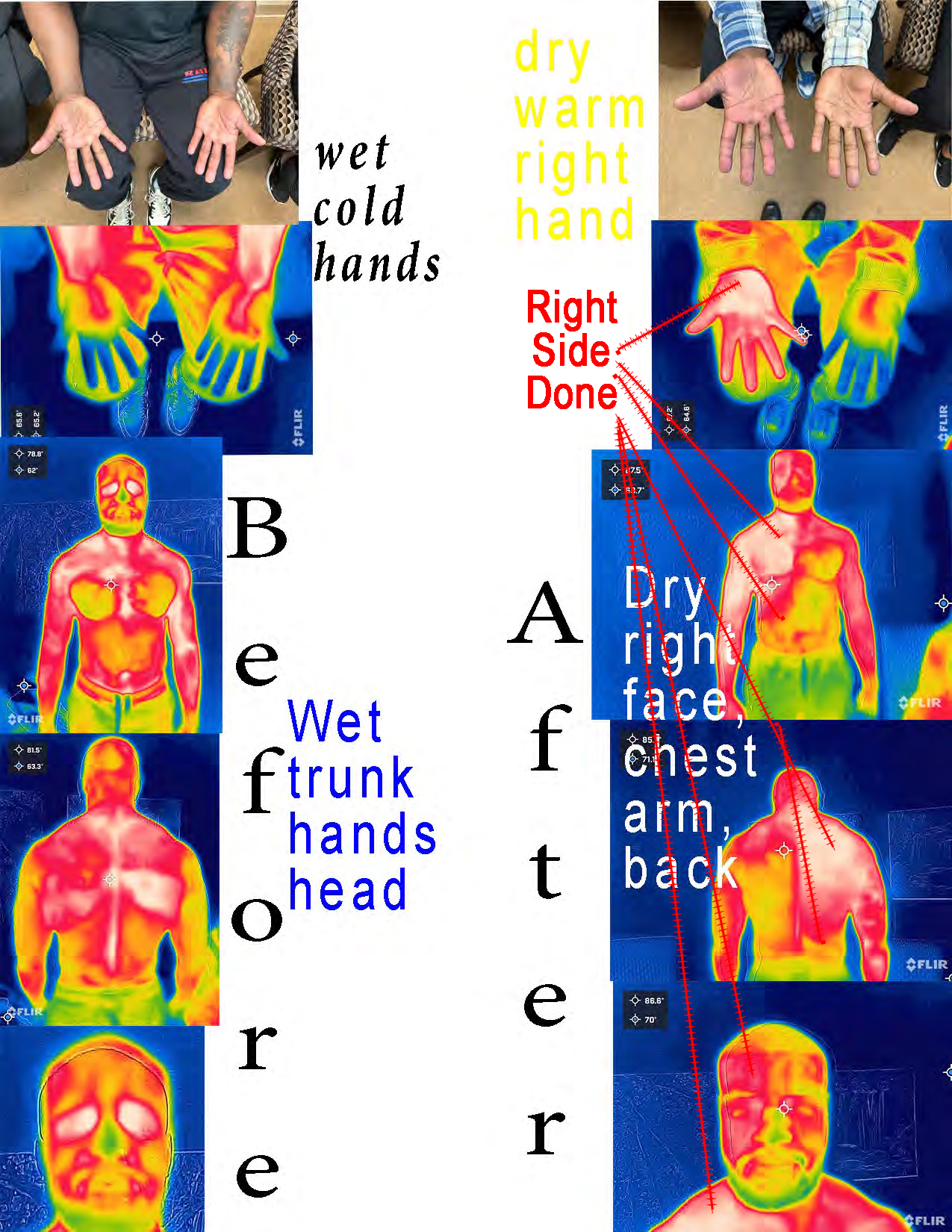 Known Side Effects
Dry skin. Warm skin.
Loss of pilo erection, "goose bumps".

Compensatory sweating has not be observed following ganglionectomy.

Horner's Syndrome - unlikely since the T2 ganglion isn't disturbed and injury to more superior ganglia responsible for innervation to the upper eyelid (C7, C8, T1) doesn't occur.

Overweight patients are not candidates for Ganglionectomy, BMI > 30.


Contraindications
Please contact us for more information on hyperhidrosis: Call 210-490-7464 Email info@dhnmd.com  or Submit a questionnaire.